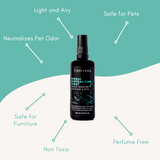 Free shipping over $100
This iconic pet duo is a real gamechanger to make life easier for you and your furry companion. This set includes:
Keep your pet (and your house) smelling fresh and clean with our all-natural herbal neutralizing spray. With calming notes of lavender and pest deterring citronella, this botanical mix is perfect for you and your furry friend. 
Our Calendula Balm for Pets is perfect for the dry cracking that is so common on sensitive pads and noses. This all-natural paw balm is safe for topical use but is also non-toxic so you don't have to worry about your special friend licking the solution off. This treatment is great for preventing dryness and cracking even before it starts.